Working Group
Mission
This group of biology instructors will explore the new artificial intelligence technologies and ponder the ramifications on pedagogical environments. We will foster ideas that can benefit instructors and students in learning and production. We will build community guidelines, codes of conduct, and other stores of wisdom to aid our colleagues for the upcoming shifts in education.
Schedule
7, one-hour meetings, every other Tuesday
Sept 5 to Dec 6
participants share facilitating meetings
about 25 minutes of homework before meetings
Goals
Stemming from literature, discussions, and in-class activities, we will build a combined survey article of lived experiences using artificial intelligence for classroom lessons and other academic endeavors along with providing shareable infographics to encourage conversations about responsible use of AI tools at other institutions.
Expertise
With the relatively new crop of AI tools released in the past year, we understand that few people feel like experts in this area. This group looks to build together with optimism and curiosity about how our workflows and the structures that we have for our students can be altered in amazing ways.
Deliverables
examples of lesson plans that use AI tools
examples of our own use of AI tools
bi-weekly exploration of AI tools in our group
Suggestion: start thinking about a project for you own personal self that fits a chatGPT prompt like "Help me make a study plan for …"
Historical Context
Calculator
"You are not always going to have a calculator in your pocket!"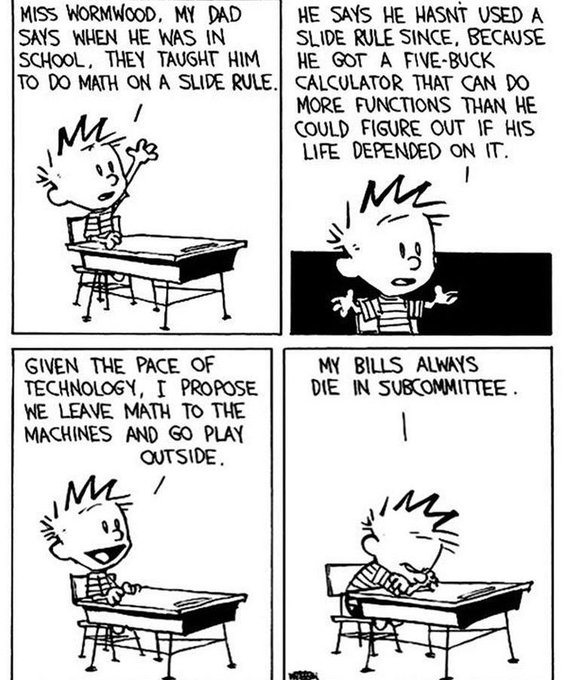 Wikipedia
"But they all just copy Wikipedia!"
The Grad Student Rap music video from January 9, 2011
Cursive
"You will only be allowed to write in cursive when you get to college!"

One Big Happy, March 4, 2020
Looking Ahead
suggest list of topics
volunteer to facilitate/scribe